Composite Decking, Timbertech, Pool Decks
Call 614-322-3333, for a free design and quote on your deck today.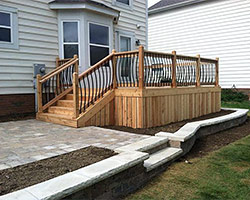 Add a beautiful deck to your home for a family barbecue or to entertain guests and add value to your home at the same time. Our designer can come to your home for a free quote which will include design ideas, construction methods, examples of our work and a drawing.
We service Columbus, Delaware, Westerville, Dublin, Lewis Center, Upper Arlington, New Albany, Powell, Hilliard, Pickerington, Galena, Grove City, Granville, Blacklick, Clintonville and neighboring cities in Ohio.
We are a Preferred TimberTech Composite Deck Installer
These outdoor living spaces can be built out of a variety of materials for the floor and handrail such as pressure treated pine, red western cedar, composite and vinyl. Our designer will have samples of these materials and the knowledge to answer and questions you may have. Other great additions to a deck can be benches, skirting around the bottom of a deck or there is a number of different aluminum balusters in a variety of colors to choose from to upgrade your handrail. Lights can be another eye catching addition to a deck. We are a preferred certified TimberTech composite installer.
We service Columbus, Delaware, Westerville, Dublin, Lewis Center, Upper Arlington, New Albany, Powell, Hilliard, Pickerington, Galena, Grove City, Granville, Blacklick, Clintonville and neighboring cities in Ohio.
Customized Decks to Suit Any Budget and Taste
Creative Earthscapes believes in providing customized decks to its clients based on their taste, requirements and budgets. By constructing a customized deck, you can extend the livable space of your home without any major construction. Whether you have a big or small yard, we can easily maximize the space and offer you the perfect setting for family gatherings and celebrations. In addition, you can use your deck for those relaxed moments, when you can escape from the chaos of your everyday life and spend some much needed me-time to recharge your batteries.
We have highly skilled and trained workers, who can design and build custom decks to suit your needs. If you have a small yard, we can maximize the outdoor living space by adding a multi-level deck. On the other hand, if you are looking for seamless transition between your home and deck, we can add brick piers. Our forte is creating awe-inspiring customized living spaces and a spectacular deck could be just what your home needs to add that missing element.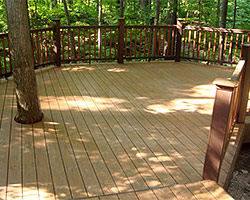 Decks Add More Value to Homes
If you have been postponing adding a deck to your home, do not wait any longer. Decks have this uncanny ability to add more value to homes. This is primarily because a deck increases the living space of a house and offers multiple avenues for entertaining and relaxing. By adding a deck that matches the architecture of your home and brings out the elements of the façade will open up the space in your home without even trying, while highlighting certain architectural elements.
Adding More Value to Customized Decks
We don't encourage the use of fire on wood decks = flammable. Also, even in a mild winter in Ohio, it's too cold for just a fire outside, you'll need an screen room enclosure of some sort.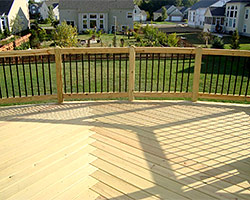 If your deck is large, think of installing a gazebo, where you can spend relaxing moments, perhaps even some romantic moments with your loved one. To make your deck more functional when you are entertaining, you also can install a weatherproof outdoor kitchen to make those barbecues more enjoyable and convenient. You are limited by your imagination and that is why we are here to assist you all the way. With your ideas and our skills, expertise and creativity, we can definitely come up with a customized deck that makes your outdoor living space something spectacular and unique.
Creative Earthscapes excels in providing quality workmanship with a 5-year warranty. Designing and building unique and awe-inspiring decks is our forte and we ensure that whatever we construct suits your home's architecture and fits seamlessly into your budget. We use the best quality materials and this will give you the assurance that your deck will last a lifetime. We are certified TimberTech composite installers, but also offering red western cedar, vinyl and pressure-treated pine. Call us today on (614) 322-3333 and let us work with your outdoor living space to transform it into something beautiful and magical. Although we are located in Columbus, Ohio, we also serve the surrounding areas, including Pataskala, Delaware, Bexley, Groveport, Worthington.