Gazebos
Gazebos: Adding Class and Elegance to Gardens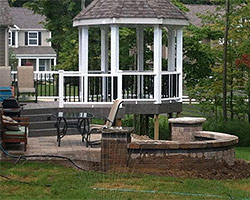 At Creative Earthscapes we have a passion for the outdoors and we love to create a natural environment. We undertake designing projects to transform your outdoors into beautiful and stunning livable, resting and recreation spot. Gazebos, pavilions, and screen rooms are a creative and beautiful feature to have in your garden. You can extend the outdoors and add an additional place to spend time with your family by adding a gazebo.
If you would like to add a gazebo, just contact us. We boast of highly qualified outdoor designers, who will help you conceptualize and design the gazebo of your dreams. Thereafter, our workers will create a spectacular gazebo based on the design. We have a wide variety of designs and ideas for gazebos that you can choose from or you can just let us know what you are looking for.
We service Columbus, Delaware, Westerville, Dublin, Lewis Center, Upper Arlington, New Albany, Powell, Hilliard, Pickerington, Galena, Grove City, Granville, Blacklick, Clintonville and neighboring cities in Ohio.
CALL US: (614) 322-3333.
Making Gazebos Look Exotic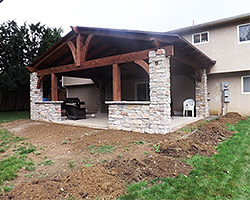 Gazebos do not have to look ordinary and dull. We can create an exotic-looking gazebo for you in any shape or size you want. Whether you want your gazebo to have six sides or eight, our workers are skilled enough to create and build it.
Choosing the ideal spot in your garden to build a gazebo is very important. It should have plenty of shade and preferably a water feature close by. We help you choose the ideal location for your gazebo and also can add the water feature, if necessary. Once we finish, the exotic gazebo will serve as a retreat for you when you want to escape the stresses of daily life. Or, you can use to host cocktail parties, family picnics or even a barbecue in the company of family and friends. With the lush greenery and vibrant flowers, your gazebo will become a piece of beauty where you will love to spend time.
Creating Spectacular Pathways to Gazebos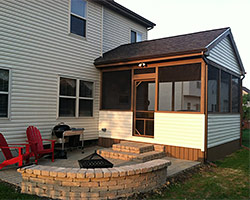 Gazebos can add value to your home. However, every aspect of the gazebo should be carefully planned to increase the aesthetic appeal of your home. Often pathways leading to a gazebo are ignored, but they make access easy and convenient and also add to the beauty of the structure. We create spectacular pathways to gazebos, using a variety of materials, such as stone and bricks. We can install multiple pathways from your home to your gazebo and by the time we finish laying these pathways, you will be amazed at the look of your garden. It will look bigger, more organized and above all, more attractive.
We believe in using the best materials and our workmanship is legendary in central Ohio. Although we are located in Columbus, Ohio, we serve the surrounding areas, including Bexley, Dublin, Groveport and Galena. Call us on (614) 322-3333 for a free quote and design. You will be amazed at our professionalism and exceptional customer service. When it comes to designing and building amazing gazebos, Creative Earthscapes should be your first and last stop. We will help you create an outdoor living space that will forge happy memories for you and your family – memories that will last a lifetime. So why wait? Call us today!